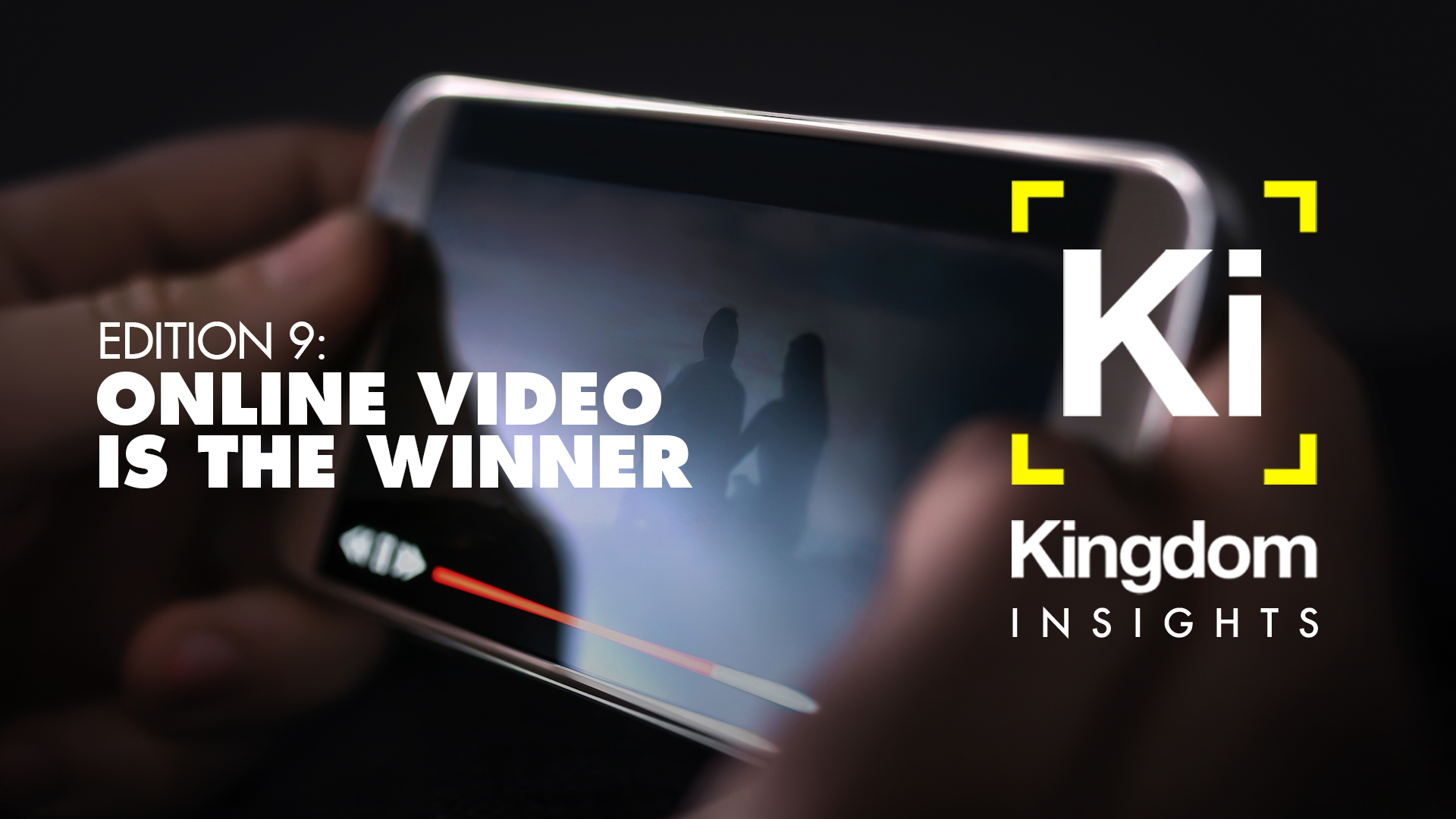 Your single biggest marketing win, revealed.
Here's your January round-up of the latest video marketing facts, figures and trends.  We start with your must-know stats and facts. Then bring you some ideas and inspiration. Then finish with some case studies. The first Kingdom Insights blog of 2021 reveals that your car is a place to escape, people are looking for luxury, and sleep is the ultimate investment. Oh, we also confirm that online video will be your single biggest marketing win in 2021. 
THE FACTS
1) "Online video will be the single biggest winner."
A stand-out statement if ever there was one. It's from Kantar's report on audience behaviours for 2021. Kantar says, "Seeking differentiation, advertisers and agencies will accelerate their adoption of the latest media channels and formats; content creators must focus their efforts on the platforms providing best value for them." At Kingdom Creative, it's second nature to create a suite of final edits for your different audience types (social media vs internal comms, for example). The good news is, this can all be done from one shoot, therefore keeping costs down. 
2) "Being successful in 2021 means tapping into the online video trend to reach and engage the consumer where they are."
Google said this in its predictions for 2021. It also included, "It's predicted that in 2022, more than 80% of consumer internet traffic will be driven by online video. And this trend is expected to accelerate due to the rise in digital adoption during the pandemic." Let's just say that again. More than 80% of consumer internet traffic will be driven by online video. Wow. If that isn't worth noting down and quoting in your next board meeting (or indeed budget meeting), we don't know what is. 
3) Factoid alert. In the U.K. alone, the average online adult watches 46 minutes of YouTube per day, and it's used by over 96% of online adults in the U.K. each month on average. (Source: YouTube)
Video content is king. Or, as we like to say, video content is King(dom) Creative. Sorry, we couldn't resist.  In this round-up, Google looks at how today's consumer behaviours are the consequences of human needs being met in unconventional ways through technology and creativity. Because let's face it, none of us are seeing our loved ones' actual faces. 
Joe Wicks is noted for the way he helped families stay active at home.

 

The Sidemen group, an online clothing retailer with 10M subscribers, is picked out for its steady output of challenges, pranks, and gaming streams that kept the nation entertained.

 

Behzinga let fans follow his personal journey to train for the London Marathon while dealing with the pandemic's effects in a YouTube Originals documentary.
All three of the accounts above put out video content aimed at connecting with people, not selling something. At Kingdom Creative, we have always believed that storytelling is more impactful than product selling. It's good to know the stats and facts back us up. 
THE IDEAS
1) Away dreams are the new daydreams.
Do you work for an aspirational, luxury brand? Here's a not-to-miss trend from Pinterest, who report a 50% year-on-year rise for the search 'luxury holiday' and 7 x year-on-year increase in searches for 'dream holidays'. People are saving for big holidays when they can travel again. But we think there is something bigger going on. People are looking for luxury. People are aspiring to live their best lives as soon as they can.  As a brand, how can you talk to them now, so when they are ready to spend their savings, your destination or product is the one they want?
2) Invest in rest.
Rest. We all need it. Maybe none of us get enough of it. In our third and final nod to Pinterest, this is particularly relevant if you are a health and wellbeing business. Still, we would argue that showing an understanding of wellbeing is a smart move for any brand. How can your video content answer this core question that consumers ask: as a brand, how do you understand and increase my wellbeing? 
Some ideas from us:
Tell a story about how the best days of your life start with a good night's sleep.

 

Show how time is the ultimate luxury. Taking time for yourself is the first step to self-care.

 

Explain that rest is productive. You don't have to be 'doing' something with every minute of the day. Slow.down.and,take.care.

 
SHOW & TELL
This is the bit where we tell you a little about what we've been up to. It's very much an optional read.
Three of our favourite recent videos are:
This unique in-car edit, for Formula 1, of the moment that Lewis Hamilton won his seventh World Championship https://www.kingdom-creative.co.uk/view/share/10369
Telling the story of the continuation of the Blower, for Bentley

 

https://www.kingdom-creative.co.uk/view/film/10410
Promoting the Porsche Classic Online Shop – https://www.kingdom-creative.co.uk/view/share/10406

 
AND FINALLY
Action, please.
It's all very well talking about trends, but we love this point from Campaign, "Like the best of 2020, 2021 will be about looking beyond the vanity metrics on social and understanding how to mobilise audiences in the real world. Getting people to cross the digital border and creating offline action. Ultimately it doesn't matter if a million people viewed your campaign while waiting for a bus, what matters is they did something as a result." It all comes down to your call to action. What do you want your viewer to do once they have watched your video? 
So, on that subject, here's what we'd like you to do once you've read this blog: say hello. Let us know if you thought this Kingdom Insights was useful, and what you'd like to see more of in the months ahead. We're all ears. We're here to help you connect with your audience and drive your business growth. We're listening. Let's chat. 
The Kingdom Creative team